Live Webinar to be Held Today at 9 p.m. EST, with Recorded Version Available Post-Event.
Over 240 million Americans love their wine.
Yet with hundreds of grape varieties within each of the five basic wine categories, it can be daunting to find new selections to satisfy and expand one's palette.
A new direct to consumer wine club, called Wine Ambassador has stepped up to help the average consumer expand their knowledge, find new favorites, enjoy the finest wines out of Napa & Sonoma and best of all, make some money doing it. From home, no less.
A "LIVE" webinar that offers a glimpse into the program will be held Today at 9 p.m. EST – REGISTER NOW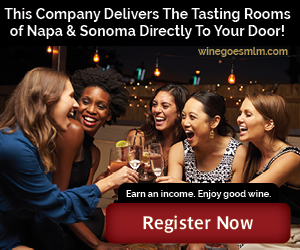 The recorded version is available for those are unable to attend the LIVE webinar tonight. http://WineAmbassadorWebinar.com
With today's restrictions on social activities, its wine club rep program is growing at a very rapid pace.
Wine Ambassador delivers the tasting rooms of Napa and Sonoma into homes of consumers each month. The idea is that the consumer gets to enjoy (4) different varietals each month and if they like one of the four or more, that they can order half cases and full cases until the inventory is gone.
Wine Ambassador gives it's club members the opportunity to enjoy forty-eight different tasting rooms over the course of one year. If the member refers 3 customers, they get their wine FREE every month as long as the 3 referral customers remain active each month. This is fueling the growth of Wine Ambassador's unique model.
Wine enthusiasts get a new way to enjoy vino with their friends, event guests have the opportunity to make informed purchases – and hosts get a cut of the sales.
The venture is the brainchild of a group of Napa Valley entrepreneurs that includes winemakers, a vineyard owner, a cheese maker and marketers who each know a thing or two about making a living from grapes.
They decided to combine talents and share that know-how with those in the general public who are passionate and curious about wine. And Wine Ambassador was born.
The wine business is, in fact, a $300 billion global industry.
One that presents countless opportunities outside of the traditional wine tasting structure for the general public, according to Brett Hudson, President and Wine Ambassador.
"We like to say that wine is wealth. When you drink it and share it, you are richer in spirit. If you collect it, it can appreciate in value. And our business lets people build a profitable business with it as well," said Hudson.
"We are all living in a new normal right now. One that has affected our social lives, income and mobility. Wine Ambassador was created for such a time as this, it is proving even more popular due to the lifestyle changes forced by today's economy."
To participate in the "LIVE" Wine Ambassador webinar or view the video post-event, go to http://WineAmbassadorWebinar.com