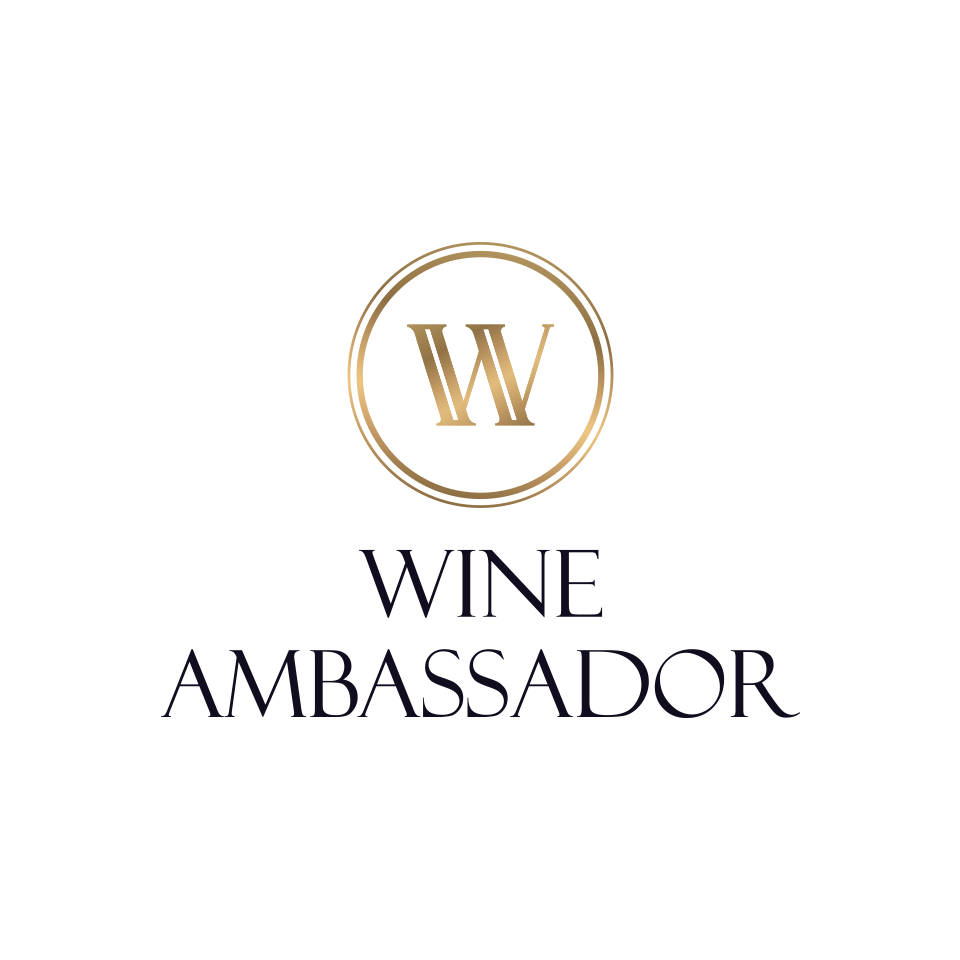 Founded 2018
Wine Ambassador delivers the tasting rooms of Napa & Sonoma directly to your home or business every month.
Our vision is to become the number one wine club in the world through word of mouth marketing. We believe that wine is a lifestyle, a passion and a part of the human experience. Wine is a celebration, with food, family and private moments alone or with someone special. Wine is rewarding, there is something giving about its character. Wine is health. it is proving to enhance your longevity, it feeds the spirit and the soul.
We at Wine Ambassador are committed to delivering a more complete wine experience to our customers by not only delivering exceptional wine, but also the enhancement of life that is captured with every bottle. Every bottle of wine has a tale to tell and we believe you need to be a part of the story.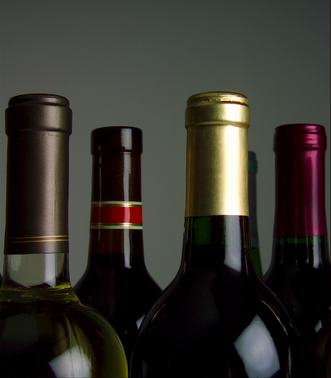 Wealth In Wine
Wine is wealth. When you drink and share it, it will make you rich in spirit, if you collect it, it can appreciate, and now you can build a profitable business with it. Today, wine is being sought after by every demographic and eligible age group, but they have nowhere to go to be educated on what to buy and how to enjoy the experience.
As more people step into the world of wine, Wine Ambassador offers a partnership with them to participate in all aspects of the wine business. If you are looking for an exciting opportunity to earn a full or part time income in the wine business just by sharing your experience with friends and associates, we offer an opportunity to anyone willing to join in.
Now is the time to Tap into the $38 Billion Wine Industry, and that is just in the USA alone!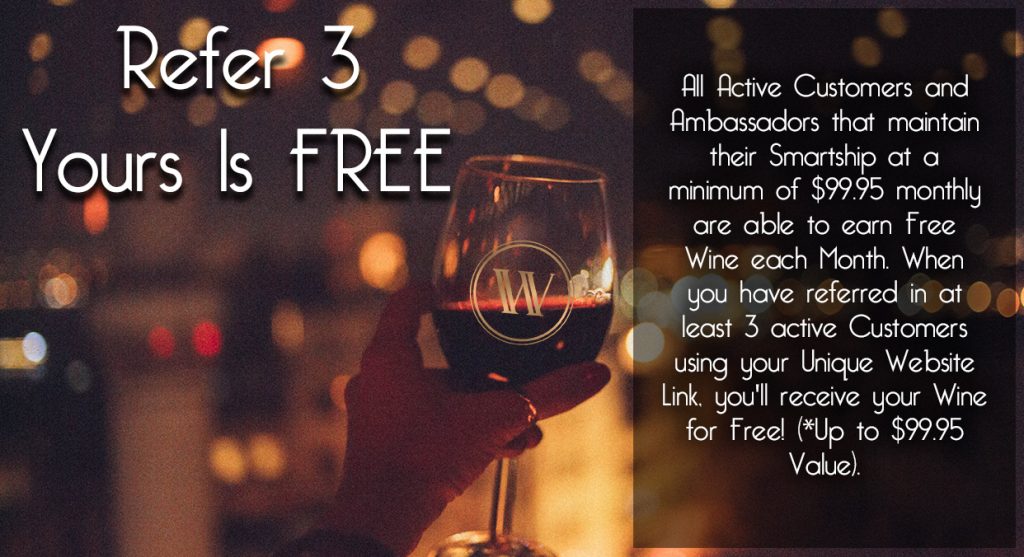 Refer 3 Yours is Free
An unbeatable deal when you refer three people to Wine Ambassador, your monthly wine is free!
View the Plan
A wealth building plan like no other. Designed for Direct Marketing beginners and veterans.
Go All In
How big can it get? The Wine Ambassador model could be the future you have been waiting for.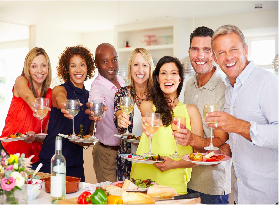 What Separates Us From The Rest?
It's more than what's inside the bottle!
1. Elegant Wine
Our search for wine is personal. We do the tasting, and we work with the winemakers. Wine Ambassador is not a bulk wine club, this is a membership within a group of wine enthusiasts where our internal wine experts hand select every wine of every shipment, and with that comes an education from the wine maker and the best way to get the most out of every bottle.
2. Wealth Plan
The ability to generate personal wealth in an industry that is booming is something everyone dreams of. The Wine Ambassador wealth plan is like nothing the industry has seen and it is available to anyone who has a passion for wine or a passion for business or both. The company was founded by wealth creators and wine enthusiasts, the perfect combination for todays wine market.
3. Let it Breathe
There is more to a bottle of wine than the wine itself. There is its history, the people involved in making it, the land it was made on, the science of how it was blended and aged, and the right way to appreciate it. Wine is a story that draws you in to be a bigger part of it. We offer that wider role for you, the ability to truly be a Wine Ambassador.
Exquisite Wine Delivered To Your Doorstep
Have you ever met anyone in the grocery store who can educate you on the right wine to buy?
Wine Ambassador is the place and these are the wines at unbeatable prices!
Our Promise To You
"We have a personal relationship with each winemaker and their wine. Knowing their style allows us to select great wines for our members, ensuring consistent quality and price.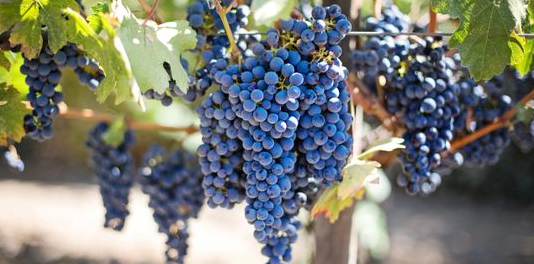 Welcome to the Hottest Income Stream available, we have something very special and unique here.
REGISTER FOR OUR WINE AMBASSADOR WEBINAR
Please listen and watch closely.
This is about to make incredible sense, and you will be thanking the Start-Up Specialist for introducing you to this incredible program.
With US, you have RESOURCES to Support that is literally 24/7 and your Support and Marketing Resources are literally made available to you from the Owners of this very Program.
We have an incredible Support Team, and the Marketing Resources (funded by our Owners) to give you everything you need to succeed. NO ONE offers and provides the actual marketing like we do.
Get ready to enjoy some incredible Fine Wines, and the Incredible Fine Income that we are making available to you with this program and the training, education, and Resources provided to you through your Group.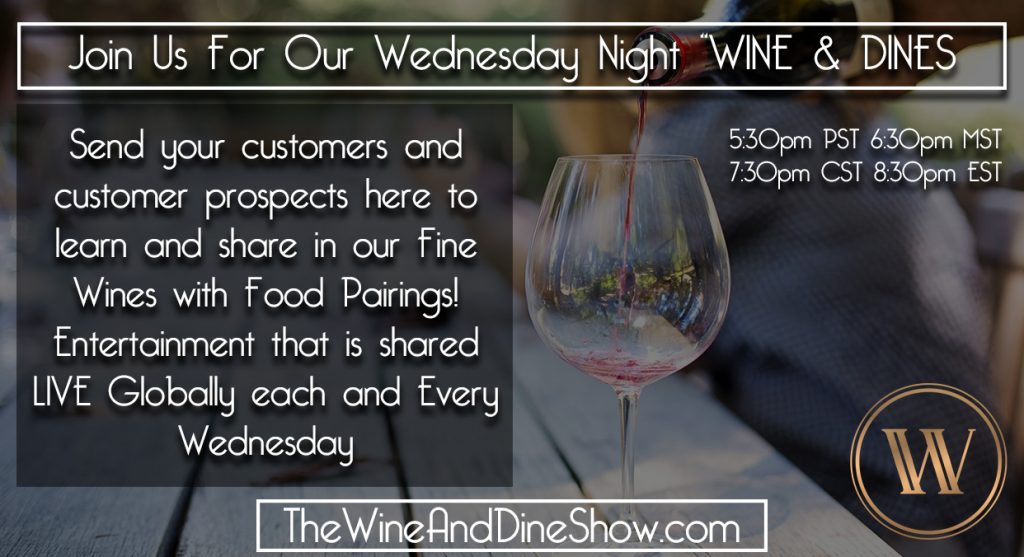 THE WINE & DINE SHOW
Wine Ambassador would like to personally invite you to THE WINE AND DINE SHOW on Wednesday night's at 8:30 PM EST.
A unique and unforgettable online WINE experience.
Get introduced to our amazing wines we are sourcing each month from Napa & Sonoma.
Watch our EPIC & Very Entertaining Food Chefs prepare foods before your eyes that pair nicely with our Amazing fine wines.
THIS IS A VERY FUN, ENTERTAINING AND INFORMATIVE SHOW!
If you LOVE WINE… You're Going To Want To TUNE in tonight at 8:30 PM EST on our Wine Zoom Channel!