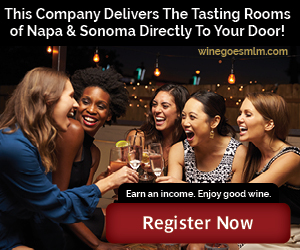 You heard that right…

This amazing wine biz is taking the home based World by storm and it's only just getting Started!

Just imagine for a moment being the middle Man or Woman in your very own wine business…

… Hands down this is the most exciting and Lucrative business you'll find in the home Based business arena!

Wine sells itself !!!

Wine is loved by people all over the world !!!

Wine can be your liquid gold mine !!!

You owe it to yourself to learn more !!!

…This incredible business can transform Your bank account

You can learn how all this works and how you Can benefit from this incredible business through Our detailed overview webinar designed to answer All your questions…

Many of our distributors watched this very webinar And went on to build a highly successful business With us completely part-time…

We have the simplest business in the WORLD!

One that anyone can plug into…
One that anyone can succeed in…
One that is a hidden gem…
I know you want to learn more…

So watch our private and exclusive webinar Right now and get the blueprint to a wine biz That can literally change your life…

See you on the Webby!
Brett Hudson #mentor